Congratulations to Mr. C.M. Chiang as the 2003 Golden Peak Award Winner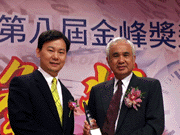 Promoting Our Vision: "Information to Change the World"

Taipei, Taiwan, December 1, 2003 - The eighth annual "2003 Golden Peak Award of Outstanding Corporation Leaders in R.O.C." ceremony was held at the Chinese Petroleum Building on November 29th, 2003. The Managing Director of TechInsight Inc., Mr. C.M. Chiang, was among the elites chosen from various industries to be presented with this award.

Mr. C.M. Chiang is the founder and Managing Director of TechInsight Inc. - formerly IDC Taiwan Ltd. For the past fifteen years, Chiang has dedicated in providing Taiwan with the best global intelligence and research reports. Based on the vision "Information to Change the World", Chiang has helped numerous Taiwanese enterprises make better informed decisions and improved Taiwan's global competitiveness.

During his ten-year leadership of TechInsight, Chiang has worked relentlessly in providing the IT, government, and academic industries in Taiwan with a clear understanding and realization on the importance of market research and global market intelligence. Chiang trained and nurtured a number of industry analysts, who made periodic visits to clients, vendors, and consumers for gathering and analyzing market intelligence, while successfully implementing the importance of market intelligence analyses and making market research a more and more valuable tool in the operations of Taiwanese enterprises. The industries in Taiwan can therefore constantly keep up with fast-changing global trends and information, and strive to be a major player on the international stage. Since 1995, TechInsight has held annual IT industry seminars featuring well-known analysts from overseas, predicting and analyzing future industry trends and changes. Beneficiaries of these events were executives and professionals from telecommunications, IT, finance, marketing and various disciplines.

After 10 years of efforts and by listening to the voices of clients and understanding their pressures when faced with global competition, Chiang concluded that the company must have a broader vision and a higher mission; so came the transformation of TechInsight, to go beyond the boundaries of traditional IT industry and into automotive, medical, biotech, financial, telecommunications and other fields. In 2003, Chiang successfully formed partnerships with world class companies Thomson Dialog, Pyramid Research and Datamonitor. Powered by the partnerships, TechInsight brings the best global intelligence and research products to Taiwan. We believe this partnership will bring Taiwan enterprises new perspectives, new stages, new dreams and new hopes.

TechInsight offers market intelligence that increases corporate global competitiveness, providing companies with more choices in strategy planning, and saving client's time and cost along the way. In essence, information brings competitiveness and advantage; how to help clients acquire global intelligence efficiently and to increase corporate competitiveness is the sole objective TechInsight is striving for, as well as the motivation of Chiang in promoting our vision:"Information to Change the World."